Rosamunde Pilcher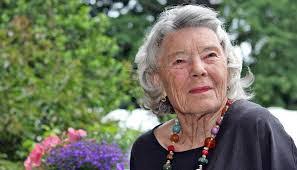 Rosamunde Pilcher, one of my favorite authors has died at 94.  Ms. Pilcher had been writing short stories and novels for years, first under a pen name and then under her own, when The Shell Seekers, published in 1987, elevated her to a new level of sales and fame.
Her books are a solace — especially made for those bruised and weary days.  Very British, her character driven stories of gentle love, flawed families and steadfast friends have pitch-perfect dialogue and beautifully rendered settings.
She worked for the foreign service during the war, married an officer, and wrote while raising her young children in Scotland.  In one interview Ms. Pilcher related an anecdote from her days as a fledgling novelist with young children.
"I always practice my dialogue out loud," she said. "Once, when Fiona was small, she had a friend over, and I was hanging up the washing and running through my dialogue. Her friend said, 'Look, your mummy's lips are moving.' And Fiona said: 'Don't be stupid. She's writing.' "
More than 60 million copies of her books have been sold around the world and there are special tours run in Cornwall, taking busloads of tourists to the locations in her books.
Ms. Pilcher's books live on a high shelf in my bedroom with my other favorite comfort reads.  She retired from writing with her final book, Winter's Solstice.  It's a cold, rainy and blustery day – I think I'll go find my copy and snuggle in.
HERE'S  the list of all her books, readily available in any library.