The Bookstore Mouse by Peggy Christian
Just next door to the bookstore where I work/volunteer, there's a children's arts center with afternoon classes.  When class is over the children often run (with parents trailing behind) into the store and quickly gravitate to our special children's room/play area (click to see full size).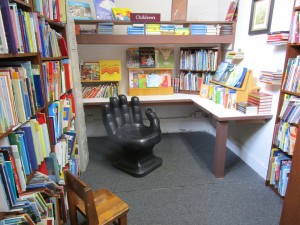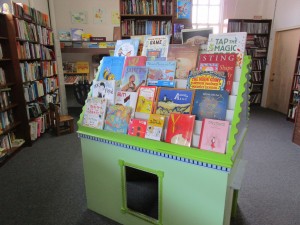 The parents can then, while keeping an eye on the little ones, slip over to the cafe and grab a coffee (they also sell wine and beer but I've never seen any parental indulgence  –strong folks these parents).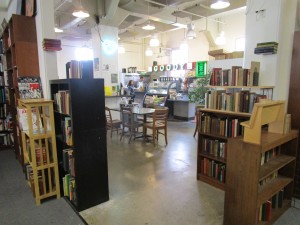 Over the months, I've formed a friendship with one little girl who comes in every week after art class and her mom lets her buy a book or two.  I'll call her Penny because she is just as bright as a penny (no real names or photo for obvious reasons).  Penny is a sturdy little girl, cowboy boots, a big wide grin, bangs I suspect she chops at herself, and an eclectic sense of colorful mismatched clothes. One can tell she must be a handful for parents and teachers alike — that combustive combination of open intelligence, imagination, impatience and enviable self-confidence  – I liked her instantly.
Almost every week, she'll find me in the store, just to say hello and to talk about things – what she did in art class (she once made me an origami bird), the books she's reading, the books I'm shelving — Penny just loves to talk.  But no idle chatter for Penny, she wants to know things — her conversations are real and her questions intense.  Mostly we talk about books while her poor mother grabs a to-go coffee from the cafe.  One week I pressed Blueberries for Sal into her hands promising her she would love it – she did.  She can't wait to read Harry Potter, but bemoans that she is still to young to read "such big books".
++++++++++++++++++++++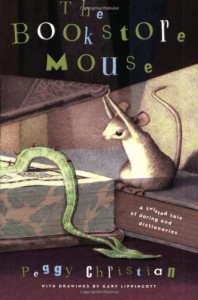 One day she brought this little book up to the register to purchase. Penny and I agreed it was a great find (the children's books are not organized in any way, so the search is half the fun) and that it looked to be a very good book.  I asked her to tell me about it once she'd read it because, of course, I love stories about bookstores and books.
A couple weeks later Penny brought her book back and handed it me…saying "You can borrow this to read yourself.  My Dad helped me, we had to look up lots of the words, but I think you will really like it  – it's soooooooo good, but I want it back, please, when you're done."
I know, I know, let's have a collective moment of awwwww.  I especially like that she was quite firm  — SHE WANTS HER BOOK BACK – a fellow book hoarder in the making.
So during this week I read The Bookstore Mouse.
It's the story of a mouse named Cervantes who lives in a bookstore and actually survives physically and emotionally on words – by eating them out of cookbooks, history books, novels. This little mouse has an impressive knowledge of words because the dictionary is his favorite book.
The words are typeset in differing fonts to show their meanings — anger, hunger, fright – as so…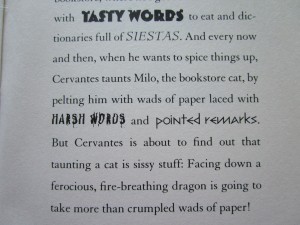 One day Cervantes, trying to escape the bookstore cat, jumps into a book and  gets pulled into a story about a scribe who has to save a village from a dragon. The scribe has trouble finding the right words and Cervantes (and the child reading the story) tries to fill in just the right word.   During the story they meet a giant who makes up very big words that mean nothing and we learn that big words can get in the way — smaller words often have more meaning.

I can see why Penny (and her Dad) had to look up words – here's a sample of some of vocabulary I had to look up:  prodigious, infandous, cacography —  and then there are the made up words like nigmenog, whosits.
There is wordplay meant for very clever readers or adults.  For example, the dragon is appropriately named Censor. Then there are underline worthy quotes such as this:

A page of print is like a secret passage that leads you to worlds so far away, you cannot imagine them until the magic of reading carries you there.
This is a tale where the words are the main character and these words need untangling and then become weapons, power and protection.  This book will not only improve a young vocabulary, but deserves to be read aloud (while stopping to look up words together) with a bright young person in your life

Thank you Penny.
Save