The Chinese Shawl by Patricia Wentworth
Where I have been that I'd never read any Miss Silver mysteries? Naturally, I was aware of this series and even have had one on my shelf for ages.  But not until my friend (and devoted Book Barmy fan), Sally mentioned this series, did I crack open The Chinese Shawl.
But first a trip down memory lane.  If you want to get right to the book you can skip this.  But, you'll miss a good story.
Let me take a moment to tell you about Sally.  Sally is my mother's best friend. They met in the 1960's through a babysitting club where young parents on a budget exchanged free babysitting.   I've now forgotten the nameless mothers (and sometimes fathers) who came to babysit when my parents went out.  Except one — Sally, who came over in black Capri pants and a red sweater.  Sally exuded Glamour with a capital G.  Beautifully coiffed hair, dramatic eye makeup framing brilliant aquamarine eyes, and she smelled really good — I think it may have been Chanel No. 5.  Sally brought exciting new-to-us books from her own children's library.  My little brother and I snuggled up next to this exotic creature as she read aloud.
Sally was, and still is, a cross between Elizabeth Taylor and Mary Poppins.  Turns out her daughter was my age, she had a son my brother's age and two other little ones who were my littlest sister's age.  Her husband and my father shared a love of cars and woodworking.  So our families soon became close and we all grew up together in the suburbs of D. C.
To this day, Sally, my mother and I share a secret love of cozy mysteries both on TV (yes, Murder She Wrote – don't judge) and on the written page (talking about you, Dame Agatha Christie).  The other day Sally sent an email admitting she had binged watched some old Murder She Wrotes and while embarrassed, they got her out of a funk.  She went on to say that she greatly admired Patricia Wentworth's Miss Silver series on whom it is reputed Agatha Christie stole based her own Miss Marple character.  I remembered my mother also admired the Miss Silver series, so I rummaged through my piles of books book collection until I found The Chinese Shawl and dove right in.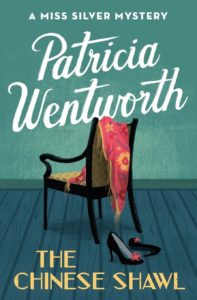 This is the story of Laura Fane, whose parents died while she was quite young and left her a historic estate called The Priory. Laura didn't have the funds required  to maintain The Priory, so was forced to lease it to her wealthy Aunt Agnes. Now that Laura has turned 21 and gained her inheritance she has come to the Priory to determine if she wants to inhabit or sell it to her Aunt Agnes and her other niece Tanis Lyle.  Laura soon discovers  there is family bitterness over old wounds, and this bitterness is personified most strongly by Tanis Lyle. Tanis is known for stealing other women's  boyfriends, then unceremoniously dumping them.  We soon realize that Tanis has many enemies who could happily kill her.   And dead she turns up.  
As it happens, Miss Maud Silver, amateur detective is already a guest at the Priory.   And, the Superintendent sent to investigate the murder was a young charge of Miss Silver when she was a governess.  So the investigation proceeds with lively exchanges between these two. Miss Silver gently chiding her "dear Randall" over his hasty judgments and guiding his efforts — all while clicking away on her knitting needles.  The Priory setting is beautifully rendered and Laura is a nicely developed character.  There are plenty of suspects from jilted boyfriends, to angry ex-girlfriends, to a pilfering maid. 
As all this is going on, Laura is falling in love with a handsome war veteran and one of Tanis's discards.   It's a old-fashioned 1920's style courtship but Ms. Wentworth adds just the right bit of heavy breathing   Just read this exchange between the couple as they first fall for each other:

"I shouldn't be surprised if it meant that we were falling in love."
She changed colour, but the change was to white, not red.  She looked for a moment as if she had been shocked right out of her senses.  There was a rushing around in her ears like water, like great waves.  And then Carey saying her name urgently
"Laura – what's the matter?"
"I – don't  – know"
Then he saw the colour come back and her lips begin to tremble.
"Laura are you alright?"
"Yes, she said."  He was holding both her hands.
"Would you mind if I fell in love with you?  Because I'm going to."
"You've only got to look me in the eye and say you don't want me to fall in love with you."
Laura's tongue was suddenly loosened  "What would you do if I did?"
He said, "Fall a little deeper."
I was totally engaged by this splendid mystery. The suspects are characters in and of themselves.  I enjoyed them all, but also tried ascertain their motives, could they have done the deed?    There's some great writing, such as this small passage:
It was the entry of Lucy Adams which broke the tension.  Flushed with hurry, on the edge of being late, clanking with chains, bangles and assorted brooches, she plunged into the midst of the situation without the slightest idea that it existed.
I had a great time with Miss Silver and the Superintendent, as we solved the crime — actually they solved it — I still hadn't quite figured out in the end.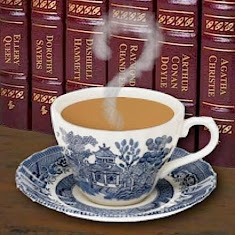 Stereotypical? Certainly.  Similar to Miss Marple series? Of course.
I've learned the 1920's Miss Silver series, while lesser known than Ms. Christie's, set the standard for cozy mysteries solved in old estates, with lots of fun characters, cups of tea, and charming old (OK Older) ladies who knit.
Count me in any day.