The Friend by Sigrid Nunez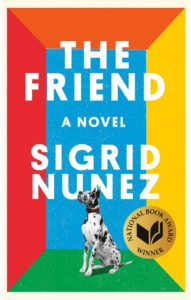 Hello Book Barmy followers ~~
I know, I know — it's been ages since I posted here.  No excuses, merely laziness combined with doing other things.  My apologies. Good news, I have finished several books and they're stacked up right here by the computer.  I promise to try and do better, to post more often, and tell you about my reads.

The Friend by Sigrid Nunez
Remember THIS post wherein I made a vow to read more critically acclaimed books?
Well, folks here's another one. 
I caught an interview with Ms. Nunez on NPR when The Friend was published last year.  She was smart, charming and eloquent. Later, when it won the National Book Award, I thought I'd better give it a try.  I finally found it in my huge teetering stack pile of TBR's and opened it one evening.

A short novel, at a little over 200 pages, it reads as a writer's journal.  The 'friend' in the title is our unnamed narrator's ex-lover and literary mentor — a reprehensible womanizer with three wives (two ex; one current).  As the book opens, the friend has recently committed suicide, leaving our narrator, his current wife, and his huge Great Dane, Apollo, traumatized.
No one wants to take Apollo.  Our grieving narrator, living in a no-pets-allowed New York City apartment takes the giant dog home until something can be sorted out:
"It's not his fault he's not a cute little puppy.  It's not his fault he's so big.  And it might sound crazy, but I have this feeling that if I don't keep him something bad will happen.  If he has to move one more time, he could develop so many problems he'll end up having to be put down.  And I can't let that happen.  I have to save him."
Wife One says, "Who are we talking about?"
The dog and our narrator both are suffering with grief and depression. The narration meanders around several major themes, the unexplained suicide of the mentor, the struggles of writing and teaching writing, and the narrator's relationship with the Great Dane.

There are some very funny bits — as when our narrator takes Apollo to her therapy session and when she discovers that the languid dog perks up when she reads to him out loud.  Simultaneously, there are some beautiful, heart wrenching passages, such as this one written in the writers journal style:
The dead dwell in the conditional, tense of the unreal. But there is also the extraordinary sense that you have become omniscient, that nothing we do or think or feel can be kept from you. The extraordinary sense that you are reading these words, that you know what they'll say even before I write them.
Together our narrator and Apollo struggle through and come to a somewhat reluctant relationship — but just then the book ends abruptly and the last chapter left me up in the air. 
In the end, this book is a stream of consciousness about love, friendship, life, suicide, pets, and writing.  
There is no real plot, there are no resolutions, and the only fully developed character is the dog.

Yes, it won the 2018 National Book Award and yes, The Friend is beautifully written,
                        but I found it a beautiful disappointment.