The Great British Baking Show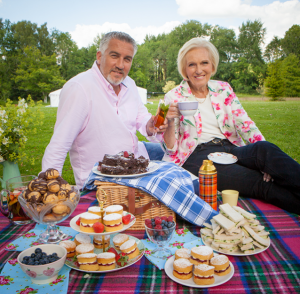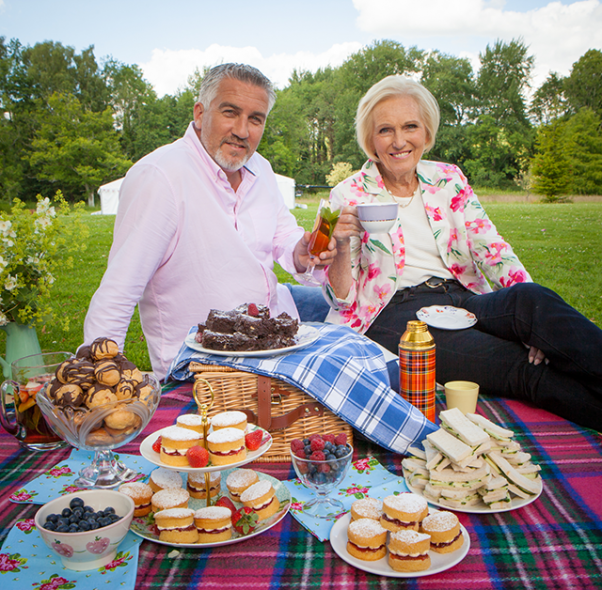 I first learned about this British show from one of my favorite book blogs: Stuck in a Book. Between book blogging, Simon has done recaps of every show airing in the U.K.  The recaps were fun, but not having seen the show I couldn't really understand the UK obsession –
until now…
Produced in the UK under the name The Great British Bake Off, The Great British Baking Show is now airing on PBS.  After watching the opening episode (the show airs just before Downton Abby) I must confess — I'm hooked.
I'm not a fan of competitive cooking shows — here in America they tend to be glaringly star-studded, overly wrought and focused on the competition versus the actual food.  They contrive to whip the contestants into hysteria and seem to encourage unnecessarily ruthless competition.  Ugh, count me out.
So I was surprised to find myself both enthralled and charmed by this program.   The Great British Baking Show takes place in a huge white tent oddly planted in the park at Downton Abbey.  (The Earl and Countess of Highclere – the real Downton Abby – are certainty cashing in.)
The judges are the two pictured here, Paul and Mary, and there are two sidekicks, Mel and Sue who give instructions to the contestants with cringe-worthy puns.  The competitors range in age (the youngest is 17), occupation (there's a builder/contractor) and appearance (a few clearly lack a good dental plan) and yet, they are all very endearing.
The judges don't overwhelm in these programs, they let the contestants and their baking shine as the stars of the show.  Mary is especially kind while Paul can border on pedantic.  The show is reserved, not frantic, and the drama is low-key but addictive.  Even during the Baked Alaska challenge when their ice cream centers were melting in the heat of the tent, the contestants (with the exception of one poor guy) remained calm and collected.
There is a delightful British wit and charm throughout. Each challenge is given with a cheery "on your marks, get set, bake" and the judges advise the contestants with typical British understatement  –"bakers need to be vigilant…"
This is a kinder, gentler cooking competition.  There is a naturalness between contestants and judges.  All the contestants smile genuinely when the others get accolades and each departing contestant gets hugs from both fellow contenders and the judges.  This program actually cares about the baking process and respects the contestants as craftspeople.
Happily the recipes have been converted to American cooking measurements and temperatures (no need to convert "gas mark 6") and can be found HERE.
See if you can view the shows from the beginning – via on-demand or on-line HERE – so you can watch the progress of each contestant, and if you're like me you'll find yourself rooting for all of them equally.
N.B.:  Each contestant has their own cooking station equipped with stoves that have a clever slide away door that drops down and then slots out of the way underneath the oven — preventing those nasty shin bruisings  –I want one!