The Guernsey Literary & Potato Peel Pie Society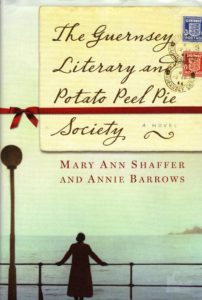 The Guernsey Literary & Potato Peel Pie Society
by Mary Ann Shaffer and Annie Barrows
There are beloved books I keep on my shelves just to re-read and The Guernsey Literary & Potato Peel Pie Society is just such a book.  Netflix is releasing a film based on the book, so last night I reached for my copy to read — yet again.
This morning, I woke with the realization I'd never talked about this epistolary novel here on Book Barmy.  By now, I'm sure you have already read this bestseller.   But just in case, let me tell about about this this little gem just to tempt you into reading it (or re-reading) before the film debuts.

Mary Ann Shaffer spent years doing background research for The Guernsey Literary & Potato Peel Pie Society but sadly passed away just after the first draft manuscript went to the publishers.  Her daughter, Annie Barrows, an author herself, completed the final editing.
Juliet Ashton, is a 32-year-old author and survivor of WWII London. She's struggling to find a subject for her next book when she receives a letter from a stranger on isle of Guernsey which was occupied by the Germans during the war.  Mr. Dawsey Adams tells that a used book by Charles Lamb called `Selected Essays of Elia', kept him sane during the war.  Turns out this tattered volume was once owned by Juliet and her address was written in the jacket cover.  (Only in a book lovers world would this not be considered stalking.) 
He goes on to tell her that the residents of Guernsey — namely the members of  The Guernsey Literary and Potato Peel Pie Society — are starved for books and could Juliet help him find other books on Charles Lamb.
Thus begins this wonderful story and a correspondence which grows to include a number of characters who lived through the German occupation and were all, for the most part, members of the Guernsey Literary and Potato Peel Pie Society (I'll let you discover the origins of the intriguing title).  The society includes pig farmers to phrenologists (you learn more about Phrenology in your reading)  — all literature lovers who outsmart the Germans.   The letters are witty, poignant, and for this reader, eye-opening.  Although it's probably common knowledge to most (especially those in the UK), somehow I never knew Guernsey was occupied during the war.

Although the subject matter is serious — the Nazi occupation of Guernsey and the resulting cruelty inflicted on the residents of the beautiful island — (here's where the author's in-depth research shines*)— the manner in which the story is told endears the reader to each and every character.

So if you haven't yet read The Guernsey Literary and Potato Peel Pie Society, get yourself a copy by hook or crook, because I agree with Juliet Ashton's prediction:
There is some secret sort of homing instinct in books that brings them to their perfect readers.
The film starts airing on Netflix in early August. I'll give it a try, but it looks like it might be a bit overly-romantic — trust me the book is much more — much richer.    Film trailer HERE
---
*I gave a copy to a friend who was a child in Germany during WWII, and she said the bulk of the book rang true, however some of the German marching scenes were not technically correct — something about inappropriate goose-stepping.