The Little Stranger by Sarah Waters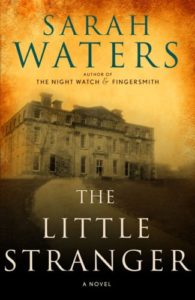 The Little Stranger was a deliciously creepy Halloween read which kept me up well into several October nights — but I'm only now getting around to this review.  Pretend it's Halloween, which was only a few weeks ago.

It's post-war Warwickshire, England and Dr. Faraday has been called to Hundreds Hall, the Ayres family mansion.   The doctor was here before, as a child, accompanying his mother, a housemaid for the family.  As a child he was entranced with the hall's decorative wall panels and he secretly pried loose and pocketed a carved walnut. 
Now it's thirty years later and Hundreds Hall has lost former grandeur. In amongst leaky ceilings and musty carpets lives the Ayres family: Mrs. Ayres, a widow who longs for the old days of her family glory; her son, Roderick, a veteran who is still suffering both physically and mentally from the war, and his sister, Caroline, a young woman who desires a life of her own.

But the most important character is Hundreds Hall  — the author spends pages (and pages) describing the crumbling and dilapidated mansion.   This provides an eerie backdrop for presenting a family tormented by the past.

[When] I stepped into the hall the cheerlessness of it struck me at once.  Some of the bulbs in the wall-lights had blown, and the staircase climbed into shadows.  A few ancient radiators were bubbling and ticking away, but their heat was lost as soon as it rose.  I went along the marble-floored passage and found the family gathered in the little parlour, their chairs drawn right up to the hearth in their efforts to keep warm.
The Ayres are stuck between the pre-war world and the post war one.  But, as we discover, they are also stuck between this world and one inhabited by spirits and secrets.

Yes, the house is haunted — mysterious writing appears on the walls, there are unexplained small fires, unexpectedly locked rooms, and creepy noises through the antiquated pipes.  Roderick succumbs to his demons (and the house's) and is sent away to an institution.  Carolyn struggles to maintain some sense of normalcy in the highly abnormal Hundreds Hall and Mrs. Ayres begins to go mad.
At the center is Dr. Faraday, attending each family member as best he can but also striving to get to the bottom of the frightening incidents at Hundreds Hall.  Despite his lower class upbringing, Dr. Faraday not only becomes the family doctor, but also a trusted friend, and eventually, Caroline's fiancée.
The prose beautifully builds a chilling atmosphere and a looming sense of dread.  More eerie than scary. Slow and languid but at the same time, exciting and suspenseful.  Although the novel could have benefited from some major editing, I was totally invested — reading on and on, even when I got slightly spooked — hearing things go bump in the night.

Some readers said there is no resolution – no ending.  However, by re-reading several key scenes and the last few pages — I figured out who is the little stranger and had goosebumps along the way.
 The Little Stranger is not at all like some of today's merely adequately written thrillers, whose readers only require a 'page turner'.  This novel is slow, subtle, literate and requires a little more thought — a thinking reader's thriller.

---
Once again, they've made a film from a book I've just read.  It looks properly creepy and atmospheric.
Trailer HERE