The Marvelous Mrs. Maisel
I write this through bleary eyes.  I stayed up way too late the last two nights, watching the entire first season of a wonderful new series on Amazon TV.
The Marvelous Mrs. Maisel.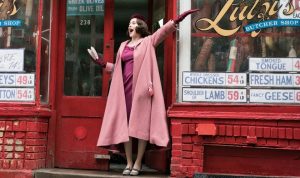 I knew nothing about it other than it was set in 1950's New York City.
Count me in — love the 50's, adore NYC.
Well, turns out I stumbled onto a real treat – some of the best television around.
Miriam "Midge" Maisel (Rachel Brosnahan from House of Cards), is a cheery 1958 New York City woman who has everything she's ever wanted–the perfect husband, two kids, and an elegant Upper West Side apartment perfect for hosting Yom Kippur dinner — until her life implodes.  Her husband leaves her for his secretary, but what hurts Midge more than the affair, is that his chosen secretary is extraordinarily dim-witted – the ultimate betrayal.
While trying to put her life back together, Midge cultivates her natural gift for making people laugh (the series opens with her giving her own funny speech at her wedding).
Ms.Brosnahan sparkles in the pilot's early scenes, as the very image of a perfect housewife; tirelessly making brisket, doing calisthenics to keep her bridal figure, and in a wonderful scene — getting up before the alarm to fix her hair and makeup, then crawling back to bed so her husband sees her all pretty – when he wakes up.
Until her husband leaves — then the real Midge begins to emerge, no longer hiding behind the happy homemaker, or the pre-dawn lipstick — she is snarky, funny and whip-smart.
The Marvelous Mrs. Maisel is about her struggle to break into the world of standup comedy (obviously all-male) , while now living with her parents and holding down a job in a department store.
She makes friends with the legendary Lenny Bruce and finds an acidic, but endearing, manager. Throughout it all, Midge remains exuberant – and that's the best thing about this series — Midge's delightful combination of Upper East Side privilege stirred up with a bit of street smart and a raunchily funny sense of humor.
Her first stand-up act is accidental and performed while drunk on kosher wine — and is one of the best monologues I ever watched — both brutally honest and ferociously funny.
Midge's confessional comedy style is a homage to the early women comics, such as Joan Rivers, who first broke into the male dominated stand-up comedy circuit.
There's a great cast of wonderful characters.  Her father is played by Tony Shalob, there's her prickly manager (again some wonderful dialogue there), and even Jane Lynch has a wonderful cameo role.
I'll stop now, you'll just have to watch for yourself.
The show was written and created by Amy Sherman-Palladino who also created the Gilmore Girls series — which I never watched, but now may have to do so, if the writing and dialogue are as stellar as Mrs. Maisel.
So, if you have Amazon TV – I highly recommend this show, but no need to binge watch as I did– you can watch it one episode at a time -but only if you're made of stronger stuff and, unlike me, able to turn it off.
NPR did a quick segment on the series  Here
Fair warning:  There is profanity and some very dirty (but very funny) jokes – oh get over yourselves  – Just watch it.