The Music Shop by Rachel Joyce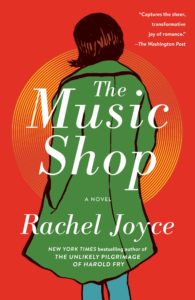 Right up there with my love of books and reading — is a love of music.  Music of all sorts really — from jazz to classical, early choral to classic rock.  There are CDs and records aplenty in the cupboards and I nerd out creating Spotify playlists for both entertaining and my quiet reading times.  There's most always music playing in our house (with the exception of football season).
So when The Music Shop came to me, I was jazzed (sorry).   Not only because it was from the author that wrote THIS, but also because it had been highly touted by other book bloggers.
It's 1988 in a provincial town in England, and down on Unity Street is a dingy music shop run by the shy, socially awkward Frank.

There was once a music shop. From the outside it looked like any shop, in any backstreet. It had no name above the door. No record display in the window. There was just a homemade poster stuck to the glass. FOR THE MUSIC YOU NEED!! EVERYONE WELCOME!! WE ONLY SELL VINYL!!"

Unity Street also boasts a pub and six shops facing a row of Victorian houses.  The neighborhood is slowly deteriorating as shops face economic decay and reluctantly sell out to developers.  We're introduced to the cast of characters on Unity Street — a grim tattoo artist, a recovering alcoholic ex-priest who runs a religious gift shop, a hand-holding twin brother team of undertakers, a grumpy tea-shop waitress, the overly-enthusiastic adolescent music shop assistant, and of course, Frank, forty, single and living above his music shop.  This band of motley neighbors and shop owners are somehow endearing – as they care and help each other.

Frank is somewhat of a music savant — he can sense the music that will help those who come into the music shop searching for some sort of solace in a record.
Frank could not play music, he could not read a score, he had no practical knowledge whatsoever, but when he sat in front of a customer and truly listened, he heard a kind of song.
His shop was permanently occupied by people who would otherwise be roaming the streets or weeping in bedsits.
Frank made listening booths from old wardrobes:
[these booths] Frank had made himself from a pair of matching Victorian wardrobes of incredible magnitude he had spotted on a skip.  He had sawn off the feet, removed the hanging rails and sets of drawers, and drilled small holes to connect each one with cable to his turntable.  Frank had found two armchairs small enough to fit inside, but comfortable.  He had even polished the wood until it gleamed like black gloss paint, revealing a delicate inlay in the doors of mother-of-pearl birds and flowers.
I can just imagine listening to music cocooned is such loveliness.  Chapters start with music titles, so as I was reading The Music Shop, I would play the exact music.  And because this book is all about music — The Washington Post called it "an unabashedly sentimental tribute to the healing power of great songs", The Music Shop has its own soundtrack.  I will link the music where I can throughout, making this an interactive review and will give you the entire playlist at the end — no charge.

For Maud (the tattooist), Frank recommends Samuel Barber's Adagio for Strings, eight minutes of music that convinces her that while her life is not that great, or even fair, it may be worth living anyhow. (One of my favorite pieces of music ever, always brings tears to my eyes.)
For a groom whose bride cheated on him, Frank pulls out one of Aretha's early albums and puts him in the listening booth to hear one song — Oh No Not My Baby
Frank's unconventional and troubled mother, Peg taught him about music and the book flashes back to a younger Frank on the floor listening to records with his mother.    Just a couple of my favorite passages:

if you listen, the world changes. It's like falling in love. Only no one gets hurt.
This is the record that will change history,' said Peg. 'Why?' She blew a plume of smoke towards a tea-coloured patch on the ceiling. 'Because it takes music to a whole new place. Miles Davis booked all the best players but they had hardly any idea what they were going to play. He gave them outlines, told them to improvise, and they played as if the music was sitting right with them in the studio. One day everyone will have Kind of Blue. Even the people who don't like jazz will have it.'
But wait, there is a plot in The Music Shop.  One day, Ilse, a mysterious German woman faints outside the the music shop and while Frank and his assistant come to her aid, Frank falls in love with her.

Ilse falls for Frank as well, but neither are ready or willing to show their feelings yet.  Ilse asks Frank to teach her about music and they meet every week in the tea shop (with the grumpy waitress) and Frank talks and talks about music. Not knowing how to express his love, he instead shows his heart through his love of music.
He was perfectly fine with emotions, so long as they belonged to other people.
Franks tells her of Pérotin a 12th century European Composer.
Once you've heard Beata viscera, you'll never forget it.  It's just a single human voice but it feels like stepping onto a bird's back.  The moment it starts, you're flying.  It takes you up, it swoops you down, and then it lifts you so high you're a pinprick in the sky.  But if you close your eyes and really listen, it holds you safe the whole way.  Until I heard [it] I had no idea human beings could be so beautiful.
There's a hidden identity, a misunderstanding, Ilse flees back to Germany and it appears Frank has lost the love of his life – or has he?   Meanwhile, the neighbors and shop owners must fight developers who want to take over Unity Street.  The threat of gentrification looks inevitable and Frank's beloved shop may have to close. Broken hearted Frank no longer cares – or does he?   You'll have to read the book to find out —  no spoilers here.
Where Ms. Joyce really shines is in her literary ability to bring music to life — all forms of music.   The solace and joy of music. Why we listen and why we need music in our lives.  But most importantly — how music can change a life and perhaps even save one.

 The silence at the beginning of a piece of music is always different from the silence at the end.
As you may have surmised, this is not Dostoevsky, it's a simple plot, but with a great deal of heart. The Music Shop is a book you'll read with a smile. This is the type of book I love reading and I suspect you will too. 
We can tackle The Brothers Karamazov later.
Complete soundtrack:
A digital review copy was provided by Random House via Netgalley