The Stopped Heart by Julie Myerson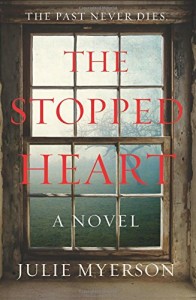 As a dedicated book maniac reviewer, I try and keep up with the cutting edge UK literary press.   I've been intrigued by an emerging genre which I'll call the 'creepy yet quaint British village ghost story*'. 
The Stopped Heart has been touted as such — a haunted house story set in the English countryside, with edge-of-your-seat suspense. Given its many stellar reviews and an enticing cover –I leapt in.
I know it's been overdone, but The Stopped Heart is, at first, boringly set in two time periods, and (yawn) has two narratives – one in the present with Mary and Graham Coles – and the other, over 150 years ago with the farm family who once lived in the Cole's cottage.

Delving further into what seems to be a predictable haunted tale, it's not only the Coles' cottage which is haunted — so are Mary and Graham.  They have escaped to this countryside retreat to recover from a tragic loss.  In the same cottage, 150 years in the past, Eliza narrates her large family's hardscrabble farm story.  Her sister, Lottie, strangely speaks of the present day family as if she knows them — and even names her kitten "Merricoles", a version of the name "Mary Coles".  Ghosts, spirits, a haunted cottage — so far – so good, right?  Get me another cup of tea and I'll keep reading.

Except it all starts to go very, very wrong when the mysterious red-haired James Dix enters the circle of Eliza's family.   Thus begins the disturbing spiral involving both time periods and parallel stories of betrayal, underage lust and ultimately, grisly violence. And like an ill-advised roller coaster ride, you know, with dread, whats coming — but there is nothing you can do to get off.  You're strapped into the ride and you just gotta hang on and keep reading.

Ms. Myerson gives no indication when her narrative switches from one time period to another.  I realized midway through the novel, that the author does this deliberately to enhance the fluidity of her past and present story-lines.  The Coles' modern-day cottage still harbors the violence of the past and Eliza and Lottie can sense the tragedy in the future. This can get confusing if you're not paying attention. But, pay attention you will, because while creepy and often violent — The Stopped Heart is a compelling page turner. (Fair warning to any parents of young children out there, this book contains violence with young children as the victims.) 
The modern day Coles struggle with their broken relationship, a surly teenage step-daughter and a sad flirtation with a neighbor.  In the past, Eliza discovers her own budding sexuality, while simultaneously demanding her own (often funny and spunky) feminist beliefs.  Meanwhile, the mysterious red-headed man disrupts everyone in both time periods. Some of the most intriguing writing involves Mary Coles "seeing" her kitchen and garden morph into the past. The smells, the dirt, the old furnishings all come alive through her eyes.
At the end of this gripping read, Ms. Myerson purposefully leaves many things unanswered – you won't arrive a pat ending – creepily, you'll continue to dwell on the events long after you've closed the book.
The Stopped Heart lead me to the edge of horror fiction, another blogger aptly labeled it "horror light".  I resolutely avoid horror fiction, I'm still recovering from my one (and only) Stephen King novel many years ago.
So why did I keep on reading well out of the limits of my comfort zone? 
I kept turning the pages because of the writing. This is an intensely dark reading experience interspersed with beautifully captured characters coping with loss and unspeakable tragedies — the suffering of a stopped heart.

I recommend The Stopped Heart with caution and warnings (see above) and it had everything stacked against it for me (i.e., horror light).  Yet, I had to keep reading and never once looked back.  Which says a great deal about the appeal of this book – a scary roller coaster ride  — you want to get off — but you can't stop enjoying the thrill.
*Others in the same genre include Susan Hill, The Woman in Black and Sarah Waters, The Little Stranger…both on my TBR list — maybe, once I recover.
Save
Save
Save
Save
Save
Save
Save
Save
Save
Save
Save
Save
Save
Save
Save
Save
Save
Save
Save
Save
Save
Save
Save
Save
Save
Save
Save
Save
Save
Save
Save
Save
Save
Save
Save
Save
Save
Save
Save
Save
Save
Save
Save
Save