Us by David Nicholls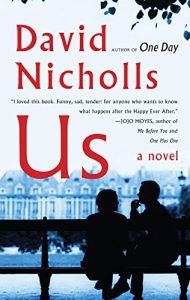 You can rest assured Book Barmy followers, we're done with dark thrillers for awhile.
Time for something completely different.
I read another book by Mr. Nicholls (One Day) a long time ago and was not enthralled. I found it one-dimensional and it often trespassed into a sticky-sweet romance.
So, when one of my favorite booktubers, Wilde Reads raved about Us by Mr. Nicholls I was skeptical, but in dire need of a break from dark thrillers – I borrowed it from the library for our recent trip down south.
Douglas and Connie, a British couple have planned a vacation through Europe, but it's nearly called off when Connie wakes up and says "I think I want to leave you." 
Douglas forges ahead and cajoles his wife to enjoy one last hurrah with their teenage son, who is soon off to college.   And thus begins a bittersweet and awkward journey through Europe. 
The past and present are told in many short chapters.  The family is on a forced march through Europe following Douglas's precise itinerary, carefully laid out in numerous spread sheets.  
Douglas and Connie's past relationship is slowly revealed  — how they met and fell in love, despite being complete opposites. Connie is an uninhibited artist, while Douglas is an introverted biochemist – they marry, inhabit a bohemian London apartment, have a child.  We see Douglas struggle with Connie's artistic and unconventional upbringing of their son, and watch as Connie gives up her art and they move out of London to a larger house with a garden.  All seems to be going well – or is it? 
These are real people — Douglas, well-meaning but suffering from a lack of spontaneity; Connie, beautiful, charming, and artistic — and their son, Albie, a typical teenager filled with scorn for adult conservatism.
The dynamic between Douglas and Connie is funny and genuinely touching.
'I was looking forward to us growing old together. Me and you, growing old and dying together.' 
'Douglas, who in their right mind would look forward to that?'"
So they're off to Europe. There are painful scenes when Douglas is trying desperately to ensure everyone is having a good time, but these are contrasted with laugh out loud funny incidents, such as when it turns out Douglas has mistakenly booked the three of them into a questionable hotel in Amsterdam…
"Dad", asked Albie "have you booked us into a sex hotel?" and they began to laugh.  It's not a sex hotel, it's boutique, I insisted.  "Douglas", said Connie, "tapping the print of the bound Japanese lady, is that a half hitch or a bowline?"              I did not answer, through it was a bowline.
What I most enjoyed about Us was the subtle, bittersweet, and unflinchingly honest writing. 
I think our marriage has run its course.  I think I want to leave you.  It was like trying to go about my business with an axe embedded in my skull.
I could especially relate to this, about Douglas's ability to appreciate modern art
It's not about what you liked and didn't like, Connie would reply, it's about what it made you feel.  More often than not, it made me feel foolish and conventional.
And I had to nod in agreement with this about parties;
Because parties, dinner parties in particular, had always seemed to be a pitiless form of gladiatorial combat, with laurel garlands bestowed to the most witty, successful and attractive, and the corpses of the defeated lying bleeding on the painted floorboards.
This is a cynical, bittersweet, yet loving portrait of a love — of a relationship. A reminder that not every couple can be happy, no matter how much they love each other.  These are real and familiar characters; especially the befuddled Douglas, certain he can fix something unfixable if only he applied enough logic, pragmatism, and unfailing optimism.
Mr. Nicholls does not give us a happily ever after ending, no perfect tying up of loose ends.  This is a civilized yet loving portrait of the slipping away of a marriage.  Like Nora Ephron's, "Heartburn", this a funny and touching novel about a situation which, I'm certain, living through would not be at all funny.