Vienna ~ I'm in love with ya, baby
ahh Vienna, I wish to have more time with you. I thought our perfect Sunday was enough — and it was a highlight of this trip. (See previous post.) But no, my heart longs for more.  I'm in love with you, Vienna but it was all too brief of an affair.
Don't get me wrong, we did soo much, and did get to see most of Vienna's baroque buildings — which are almost as delicious as the cakes.  My camera practically explored with all the beautiful architecture.  We walked and walked.  When our feet gave out, we climbed aboard one of the historic trams that circle the inner part of the city.  We were herculean tourists during our time here.
I love your wide avenues, perfect for strolling…
Then how you can slip down a side street and find absolute quiet …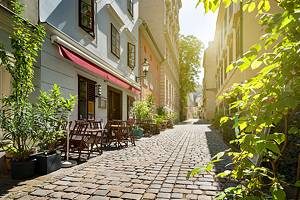 Your statues delighted at every turn…
But I want more (she sighs, petulantly…)
I want to go to an opera (and I'm not even a fan of opera).  I want to attend a concert in the hall where Mozart once performed.  I want visit at least some of the museums — they number in the 100's.
I want to spend a day touring the treasures of the Hofburg Palace where Emperor Franz Joseph II and his poor wife Sisi changed history. I want to day trip to the Wachau Valley to sip white wine. I want to waste hours in a café, just reading and watching people.
Two and half days just wasn't enough for this regally elegant city.  Yes, it's more expensive than other cities in Central Europe ~~ but, oh darling,  you're worth every Euro.
Vienna has been voted the most livable city in Europe for many years — I can see why.  I could live here – or at least come back for a longer stay…
Some overpriced markets and shops where I would shop during my daily stroll through various parts of the city…
Finally, an adorable expresso mobile, complete with a full up-scale European set up for that much needed quick pick-me-up between lunch and local café time.  I might just have to learn to drink coffee…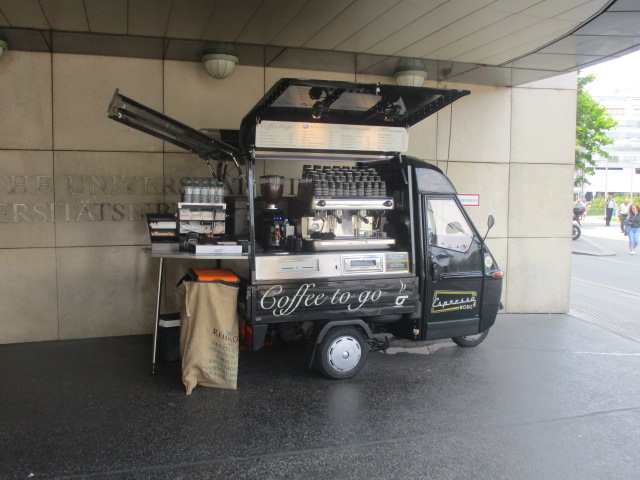 Vienna, our time together was brief – but oh so delightful.
I'll never forget you.
I close with my favorite statue – an over-the-top Mozart, who made me laugh, posed just so — in all his pompousness.