When Books Went to War by Molly Guptill Manning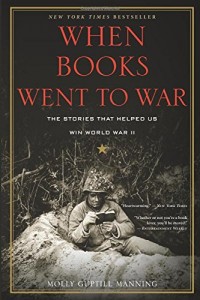 Unlike my previous post, where I talked about books that didn't meet my expectations, this book totally surprised me.
I picked up When Books Went to War as a gift for my mother (sorry Mom, now you know…) and thought I'd have no interest in reading it.   Mom reads more history than I do, especially WWII which she experienced as a young girl on the home front.
One evening, cuddled into my reading nook, I idly picked it up and started skimming – still thinking it wouldn't appeal.  But before I knew it, I was several chapters in, fascinated by the idea, creation, distribution and importance of Armed Services Editions (ASEs) paperback books.

The idea was conceived by a wartime government entity- delightfully named The Council on Books in Wartime.  Their slogan was "Books are weapons in the war of ideas". Prior to this, private citizens were asked to donate books for the troops, but the effort proved disastrous as citizens unloaded books they didn't want.  Additionally, this was before paperbacks had been fully embraced by either the publishers or the reading public.  The many donated hard backs proved unwieldy for use other than in military hospital libraries or training facilities.  No one had figured out how to print small, lightweight books that could be carried by infantry soldiers into the battle trenches.
When Books Went to War tells the fascinating story of how a few publishers employed the Reader Digest magazine printers to produce these small and invaluable volumes.  I learned how they used the two-up method — where two books were printed on one page.  Because of this, printers staff had the tedious job of counting pages, words and characters in order to match similarly sized books.  Given paper rationing, every page was used and an initial run had the typeface so small, they were impossible to read.  But after these few initial failures – the ASEs were born.
The book is interspersed with letters from the soldiers at the front – there's a brilliant description of the daily rigors of an infantryman to letters of thanks from soldiers who eagerly awaited the ASEs.
I want to say thanks a million for one of the best deals in the Army – your Armed Services Editions.  Whenever we get them they are as welcome as a letter from home.  They are as popular as pin-up girls – especially over here where we just couldn't get books so easily, if it weren't for your edition.
Private W.R.W and the Gang
The best chapter in the book is called Grab a Book, Joe and Keep Goin'.  The chapter title refers to the rule that when the books arrived, and the soldiers lined up the pick out a book, they had to just pick one and quickly move one.  They would trade them around later. This was to facilitate the very long ASE lines — much longer than the line for cigarettes.  These books filled many long lonely hours for soldiers.

There are many delightful tidbits – who would guess that A Tree Grows in Brooklyn was the most popular ASE?  And that hundreds of tough soldiers in foxholes wrote thank you letters to author Betty Smith (she answered every one).  Like me, you may choke up to learn that when men had to jettison items from their packs to save weight, they never discarded their books.
Towards the end of the war and after, the US continued to distribute these books to both to servicemen and, later, to European civilians who were starved for reading material.  The appendix lists just a fraction of the banned authors who books were banned and burned in Germany and German-occupied countries during the war.
The other appendix of this book is so fascinating I may have to keep this book (only kidding, Mom) as it lists every ASE published in date order, by series (A-B-C etc.) and issued number.  Classics, short stories, humor, essays, now-forgotten popular authors, many sports books and even a few science and mathematics books show up. Nothing dumbed-down here.   Would it be the same today, if there were a similar program?  To read through this listing of titles is a wonderful glimpse into the reading and publishing tastes of the time.  Not to mention, some of the ASE authors are the same as those on the banned book list.
When Books Went to War is an important cultural history; but it is also vastly readable, interesting and well researched.
If you love books, are interested in World War II and want to remember a time when Americans (and government) worked together for a common goal, read this book.
I wanted to see what an ASE looked like – here's what I found for sale on Ebay. Click to see full-size.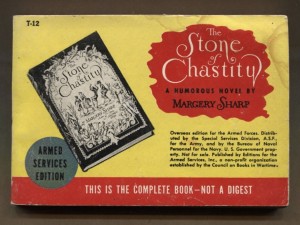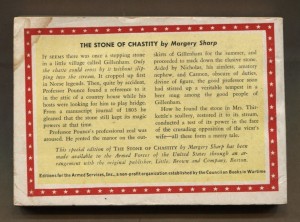 Save
Save