A Perfect Sunday in Vienna
Sunday, our first day in Vienna ~~ and we had plans, big plans~~ exciting plans…including (sort of) attending not one, but two church masses.
Way back when planning this trip, we found a small article on Rick Steves' website.  (In case you hadn't noticed, we're big fans of his travel guides/advice.)  The article described a perfect Sunday morning in Vienna. Well, count us in!
Up early and an easy walk from our apartment (more on the apartment later) to the Hofburg Palace Imperial Music Chapel, where one can stand quietly at the back of the chapel to watch the mass, but most incredibly, hear the Vienna Boys Choir who sing throughout this mass every Sunday –accompanied by a small Viennese orchestra.  You can't see the boys, no one can, they're hidden in a loft at the back of the Chapel.  But, I think that's the point, you instead focus on hearing them (shivers up the spine).
Sunlight streamed into the chapel and although neither of us are formally religious, this –well this, got to us. No pictures allowed, you'll have to just  imagine the music and two aging travelers moved by the splendid beauty of it all.
OK here's a photo of the Chapel from the internet — just so you get an idea.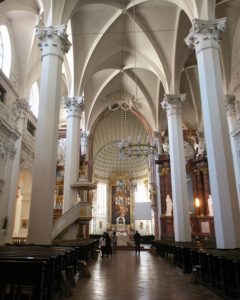 Our next stop has been on my bucket list since I was a little girl and fell in love with this book (the well loved copy still on my shelves).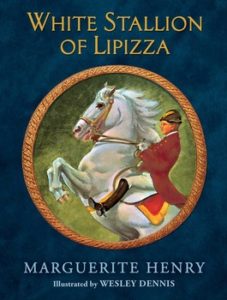 Yes, dear readers, it was the Sunday morning performance of the Lipizzaner stallions at the Spanish Riding School.  These Spanish horses were so loved by the Emperor, that he built a special baroque riding hall to show off their noble gaits and precisely controlled jumps.
We read that there's not a bad seat in the house and the cheapest standing room tickets are just as good as the extraordinarily priced seats.  So we went standing room, which had wooden steps for sitting or standing as one wished. We found a perfect spot.
One is not allowed to take photos, as it can spook the horses, but I snuck a couple before the performance started.  Just look at those chandeliers.
It was an hour of pure delight, even Husband enjoyed it.  But, in between performances — he insisted that Silver (the Lone Ranger's horse) could rear up higher and jump further.  (You just got to love the guy, no?)
After the performance, we strolled about 100 yards to the Augustinian Church where another Mass was open to visitors. (These Masses go on for 2+ hours, so even the holiest of parishioners come and go.)  We found a pew in center back and enjoyed the full choir, complete orchestra, and a magnificent pipe organ recessional that went on for 15 minutes at the end.  After Mass, we snuck some photos.
We decided to head over to the tourist information office to get oriented to the rest of Vienna for later today and tomorrow.  Even the tourist office is impressive.  This display holds tourist brochures in a multitude of languages.
Found a cute café for lunch (Barmy travel tip –  go off the tourist routes, down side streets, into alleys to find the best places to eat).
After lunch, we explored.  Ending up back at the Hofburg Palace again  — first photo shows the enormity of the place:
By now it was late afternoon and the temperature had climbed to 80. We headed back through some lovely gardens just near us.  Check out the rose garden.  And had to take a photo of a wonderful African family celebrating some sort of special event.
Now to our teeny, tiny little apartment.  Perfectly located just behind the Parliament.  But as a loft on the 5th floor it is quite warm in this little Vienna heat wave.
We figured out the ersatz air conditioning unit, closed the shades and took showers and rested…me happily reading my program from the Lipizzaner performance.  Here's the view from our loft windows.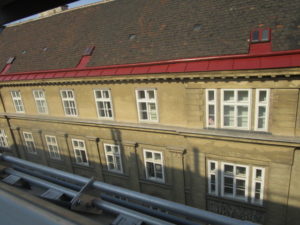 Found a wonderful little beer garden place just near us, sat outside and lingered over our dinner until the sun set and it got cooler.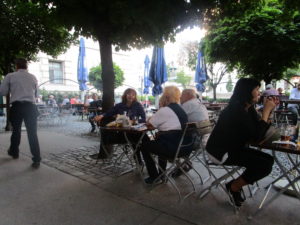 More of Vienna tomorrow – Gute Nacht