Prague ~~ Sunday Highs
Our last day in Prague dawned sunny and clear. We decided to enjoy a morning stroll to find one of those Live Like a Local suggestions – a local hotel with a little cable car that climbed a hill for a great view.  Finally found the hotel but sadly, the cable car was not operating — why, we could not ascertain — the front desk staff just kept saying sorry, not today.
With going up the heights on our minds, we decided to attempt the very popular Ujezd funicular which goes to the top of Petrin Hill.  —  a park with spectacular views of the castle and city.  On a Sunday? we thought how stupid are we? but we did it anyway.
Stood in a long line which moved fairly quickly.
Barmy travel tip:  When in an European queue, stay sharp or loose your place in line.  Look away for a minute, point to something for your partner to see — and someone behind will slip in front of you.  When you say, 'excuse me?'  they open their palms and let you back in place.   There's no rudeness, they just figure you're not paying attention, and will take advantage.  
We got to the top and there were gardens, picnic areas, pony rides for the kids, food stalls, people strolling — all very Sunday in the Park.  So we strolled and found a quiet bench and people watched.
Came upon a somber collection of statues that reminded Husband of his Walking Dead TV show, but I argued that I was sure it had a deeper more significant meaning.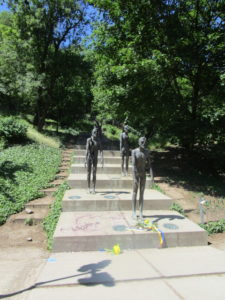 We decided to avoid another long line so walked down a pretty path to the halfway point where we joined the funicular at its last stop.  Pretty day, nice walk and check out these spectacular views.
Back down in the city we did some more wandering, narrow lanes that led us into other narrow lanes and suddenly found ourselves at the Klementinum — which we weren't able to find the other day — and here we just chanced upon it.  It occupies two hectares of old Prague and is one of the largest building complexes in all of Europe, so we were confused as to how we missed it.  We got tickets for the last tour and grinned at each other over our luck.
You see Barmy followers, the Klementinum houses another of the world's most beautiful libraries —the Baroque library hall, a stunning example of Baroque architecture, was first opened in 1722 as part of the Jesuit university, and houses over 20,000 books.  Sadly they don't allow photos so these publicity images will have to do.
Be still my beating heart…
The tour went on to showcase the Klementinum's astronomical equipment — a camera obscura  — a room with a long string stretched on the floor and one ray of sunlight coming through a small hole up in the wall — all precisely attuned for determining noon.
Then we climbed up and up inside the astronomical tower on old creaky wooden stairs. Our Czech tour guide advised us not to linger on the stairs as they are about to fall (!).  Husband's believes they say this to keep us moving quickly along.  I know this old gal never climbed stairs so quickly.
More views of Prague — sorry folks, but I climbed all those stairs!
Back on terra firma, we worked our way back to the main train station.  We leave from this station in the morning, so it gave Husband a chance to time the Tram ride back to our apartment in preparation for next morning departure. (Again, this is why Husband is in charge of navigation.)
Got back and packed for early morning departure, then set out late evening to find some place for dinner.  Not much open on a Sunday night, but we lucked into another traditional Czech fare restaurant.  Again, wonderful food, great beer for Husband and this time, we each had one leaf of lettuce as a nod to vegetables. Luckily we both had big salads for lunch the day before…so perhaps we won't die of scurvy.